History of Winder-Barrow Airport
The Winder Barrow Airport was originally constructed as a 15-acre emergency landing field. The exact date cannot be determined. In 1945, a 485-acre Airport tract was purchased by the city of Winder and Barrow County. The original Airport construction was completed on June 24, 1948.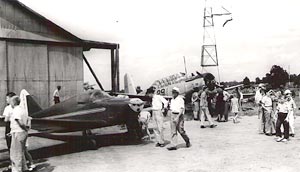 At that time, the runways were 4,500 feet and 4,600 feet respectively. The late Senator Richard B. Russell was instrumental in obtaining Federal grants from the Federal Government to aid in further developing the Airport. In later years, private pilots who owned their own aircraft used the airport. The original Service Facilities were located at the cross section of the runways (shown above). In March 1958, an act by the Georgia Assembly, along with Barrow County, established the Barrow County Airport Authority. The Airport Authority began managing the Airport at this time and continues to oversee development and business expansion at the Airport. The construction of the present Terminal building was completed in mid 1991. The old hangars and the Romanair FBO (Fixed Base Operator) were demolished and new construction moved them to its present site next to the Main Terminal building in 1996.

The Winder Barrow Airport is also home to a Georgia Air National Guard unit. The 148th medical company air ambulance and detachment 8 of company B 935DASB are located here.
The name of the The Winder Barrow Airport was changed to Northeast Georgia Regional Airport on December 20, 2005. The name has since been changed to Barrow County Airport.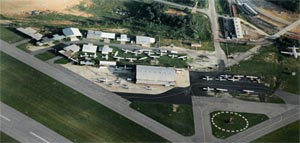 THE ORIGINAL WINDER BARROW AIRPORT FBO AND HANGARS